Welcome! It's time to party and

Grow Your Blog

!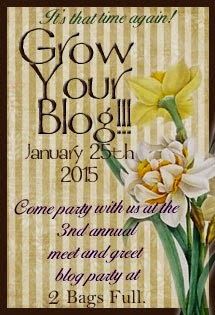 Since one of my New Year Resolutions is to become more social in the blogging world, I thought how fun! A party of over 400 bloggers to meet!
So let me introduce myself. I'm Susan Arnold, living in the Silicon Valley, California, the hub of all things computer and internet related. I discovered this incredible hobby over eight years ago, and it has taken over my life. I have an extensive stash, which is on the verge of being vintage, so I'm on a mission to use it up. I don't purchase a lot of new fabric but if I do, it's usually to fill a deficiency in the stash. I do all of my own quilting on an Innova 22" longarm, which is such a joy to use to bring the quilt to life.
As for blogging, I love to share about the quilts I'm making, and how I've done some technique, hoping to inspire others. It makes me feel wonderful when someone writes that they learned something new or were excited to try a certain technique because of a quilt I've made. Quilting has so many facets that there really is something for everyone. And I want to do it all!!
So feel free to look around, especially the Quilt Gallery, Book of the Month, and Tutorial pages as there's lots to see!
Enjoy and Happy Quilting!